Jeff Austin was a really hard one.
I'm assuming they found a coat. Weird way to write it up though.
This is incredibly sad. Hoping for a good outcome here
Or the life jacket was in kayak but obviously wasn't being worn
I only saw Yonder once in 2007 at All Good and then a 30db show in Boulder in 2010 so I wasn't lucky enough to catch him that much. I've never really listened to much bluegrass by choice but have seen my share over the years. When Jeff Austin passed I was dealing with my own challenges but I remember feeling down for all my friends that were affected and to an extent Bayliss cause I couldn't imagine losing a band mate and friend to suicide. I've only known one person who has gone out that way and I'm not sure how it would affect me personally to lose someone I deeply cared about that way. I know the pain of losing people to drug overdoses though so maybe it's like that. Hopefully I don't have to find out soon I've had a pretty good stretch of avoiding tragedy in my life stuff like this brings me back to reality though. Life is precious. I wish I lived in the area and could join the search. It would be really cool to see the community respond to this with overwhelming waves of support for Chuck's family.
I'm here too right now. This sucks.
Damn. Insane. And Chuck was always so nice when chatting with him.
Really hope everything is ok but this doesn't look good
Damn this is awful. Vibes to the Lotus family
Crazy. Lack of update by now is pretty scary
Terrible. Hopefully, the family can get some sort of closure either way.
Fav two members of the OG Lotus right here. Just super dudes. This one hurts
The whole story is just sad. My thoughts go out to the entire Lotus family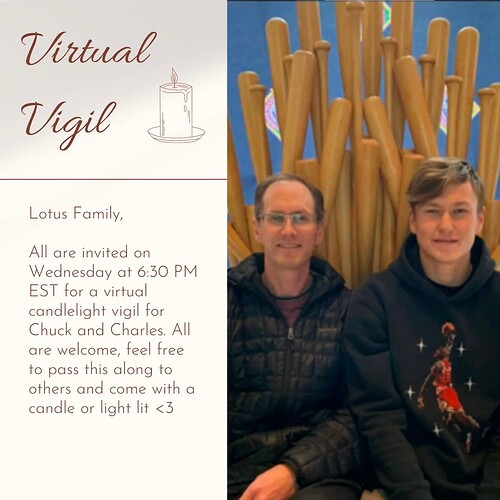 Catherine Callender and I will be hosting a virtual vigil on Wednesday at 6:30 PM EST
ALL ARE WELCOME please pass this along to anyone who wants to join. We have a few people who will speak. Bring a candle and yourself
Google meet link:
Wednesday, March 22 · 6:30 – 7:30pm
Google Meet joining info
Video call link: https://meet.google.com/gbn-vdnp-hgs
Or dial: ‪(US) +1 470-327-0995‬ PIN: ‪681 559 149‬#
More phone numbers: https://tel.meet/gbn-vdnp-hgs?pin=7909924927297
(From Lotus Family! on Facebook)
Oh man, I can't even imagine