Anybody else notice this email from Friday. Not sure how to link it.
September 2 & 3rd.
S2.
Let's go!
Are these strictly S2/"Stew Art" shows? Or is there just an S2 component as part of the show?
I believe it's just a component.
Of course there's a VIP stream option
Doesn't ask for S2 suggestions when buying tickets, wonder if we'll get an e-mail…
Where do I enter my Stew Art and umVIP Improv Vehicles?
Existing TourGigs account holders enter their selection in the "My Details" section of your account. To do this, simply log in and select the circle bolt in the lower right-hand corner of your screen. Then, click on the "My Details" link and enter there.

NEW clients can simply add their selection on the last screen of your check out process after your order is processed. Further, you also can follow the instructions above once you are logged in.
No, I was sent this information from TourGigs. Let me see if we should post this to the site . . .
Hope someone is requesting "Dinosaur Rawr Break".
"Barbershop sextet, but it's just woo-ing and rawr-ing"
Would the same apply for the umVIP set request? Just include both?
EDIT: Never mind, I see both fields in there.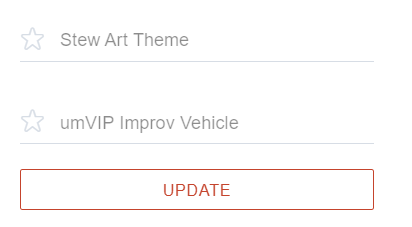 Any chance the shows get released on nugs?
Good thing we just got those stimulus checks.
Where are the In The Round soundboards? @jwelsh8
Well fuck me, this might mess up my sober month I was shooting for.
I'm attempting something similar. Lack of concerts is the only reason I have a shot.
Can't tolerate UM when sober?