And had to sign a waver for the 5 strip I bought. Good stuff.
fall term 2001, friend in college had an original songs for older women and 7/14/99 set II on CDR that he'd play from time to time and i enjoyed it enough, such that, when @jwelsh8 offered to get us into the 1/26/02 show for free, i jumped on the offer
i was already aware of McL talking a ton about UM on the moe.-L at that point, where I was familiar with who they were, but really only had listened to SFOW and 7/14/99 a few times before actually seeing them
Same, but five days earlier.
I definitely wished I had jumped on the UM train earlier than I did, like '07 or '08.
Christmas afternoon 2006.
Local Band Does OK. I knew from the first 30 seconds of Andy's that this was the band I was looking for.
A Christmas miracle!
It was in 06 I can't remember exactly what it was, but I feel like it was a monthly podcast like deal from nugs.net with jams from the month. It had like tea leaf green on there too. UM came on with All in Time and I knew right from the rip that this was going to be a journey. A month later I was at F.U.N.K Fest in bean blossom, IN and the rest is history. Never knew how lucky I was to have a first show with Joshua Redman didn't know what I got for a quite a while after that one. Two weeks later I was at GR too.
Similar situation except it's was late 2006 or early 2007. Friend sent me a CD in the mail. Saw them in July of 2007.
And that's the problem for me now, I want to listen to a new song and be blown away like I was with Plunger and Wife Soup and it never happens.
Edit: hard to beat this setlist for a 1st show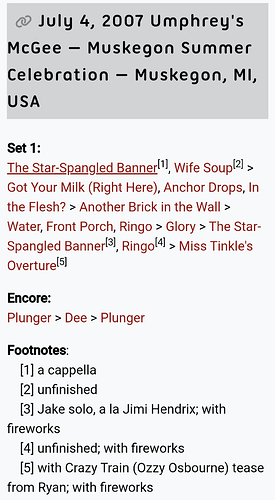 2009, saw that soundstage performance on tv and liked what I was hearing. Saw them that year at mtn jam a few months later and was thoroughly mind blown.
2009 I actually heard a bunch of songs off Mantis, including Mantis itself for sure, on a progressive rock radio station. I remember being interested but not enough to dig deeper. Then a friend invited me to a show in 2010 but I had to duck out last minute due to a family emergency. Finally, another friend sent me the St. Louis 2011 New Year's run early in 2012 and that was what hooked me. A band that can play all four of Wizard, Tribute, August, and Anchor Drops (all in the first set I listened to) is pretty cool.
I heard a random version of AIT because that was the first thing the internet found for me after a friend told me about the band. After that I believe I also checked out Bonnaroo 2004 and then was obsessed with Anchor Drops until I saw my first show in July 2005.
I remember just wanting to hear Tinkles and Mulches at my first show and was was like wtf is this when they opened with Ringo. Hilarious looking back how I had absolutely no idea how massive their catalog was.
I did actually get a Plunger, Wife Soup, and Tinkles though, so the AD presence was heavy and I was stoked.
What a great fucking set that was, and none are even the best jam of the night.
I'm pretty sure if I went to a UM show nowadays with 3 above-average jams followed by a 2nd set 20-minute opener it'd be pretty much the template for a perfect show.
Best friend played me an SBD of 05/22/03 song list show and convinced me to ditch class and drive to Otto's for 10/08/03. The rest is history.
My cousin played with Myers in grad school while he was getting his masters in Jazz Saxophone. I actually saw Myers play with him in 01' at a recital somewhere. My aunt has videos and pictures of them playing together, I should ask her to dig them up.
In 2003 when Myers joined UM my cousin was mentioned how his friend just got the drumming gig for this local Chicago band. He showed me a few tracks and I started slowly going down the rabbit hole. When AD came out I bought the CD at Border's and was immediately hooked by the opening riffs of Plunger. I was 14 and a huge metalhead at the time but finding a band that jammed heavier riffs, and didn't just played the composed sections blew me away. I was young so my parents didn't let me go to a show until Skyline Stage on 9/3/05 and by that time I was really deep into their catalog but hadn't really explored to much live stuff yet and seeing them play in a live setting and expand on songs I knew well was an eye opening experience.
I will admit that Bright Lights and the 12/29/11 2nd set in general was a bit of a grower for me in 2012. I did not listen to dance/funk music at all at the time, or even a lot of music with extended jams. However, I still recognized that what was going on was good, and eventually I got there

And then I started listening to other bands play the same style too. UM definitely broadened my musical scope.
got sirius radio in 08 and was browsing jam on when 1348 played. took a deep dive from there. don't remember many specific moments from when i was 21, but i'll always remember this one.
thinking more about it, i was so pumped to hear 1348 during RR n1, and i now realize why it subconsciously was so important and exciting for me. don't listen to UM any more, but going to RR n1 this year was awesome and brought me back to a happy place i hadn't experienced in a while.
Spring semester of my freshman year, so probably early 2005, the Phish kids I was starting to hang around with turned me on to 2/7/2004, 6/11/2004, and 12/3/2004, followed closely by AD. Took me until 5/5/2006 to see them live but I was pretty hooked before then. I remember wondering why they didn't play any bluegrass because one of their promo images around that time was the group pic of all of #theboyz holding splintered guitars and banjos and whatnot.
This what hooked me. In 2005 I was transitioning from being primarily a metalhead to discovering psychedelics and mellowing out. UM was that gateway for me.