Feeling sad that me and @opsopcopolis @jazzprogfan and @ridingwiththeking left the Boulder show right before this heady Nerds
100% in for this @solvethebox. One of my favorite local towns and area on a random Wednesday night and a cool looking small theater (that I didn't even know existed). Yes, please. Probably will take Thursday off and do a quick hike before heading home.
Yeah I doubt it but they're playing that fest in MA on Friday. Probably going to do that and we're leaving the next day
You weren't kidding about this Nerds!

Are ya hitting the Leesburg show?
Planning on it. Not looking forward to an hour-plus drive each way on a Wednesday, though.
Saw a video on IG from the Portland show and the crowd looked rowdyAF. Glad to see that in a part of the country they don't tour too often
At dopapod in LA right now…yak attack was so good
Very fun. They did a killer late night set at Beanstalk one yet that I used to listen to a ton. Cool to watch Dave alternate between looping guitar and keys parts.
Yah I had no idea what was up with them but 10min into their first song after layering a bunch of loops he breaks out the Gibson and lays down some solid playing…mind blown
Great fucking show, but it was 5.5 hours round trip. Too tired to think as I'm here in my garage.
Here's what I clocked (probably wrong)
Summary

Set 1: Haalp > mucho (fat, almost aborted), Peter banning? > black holes (short sad ) , live in the dream (good but short) → 386 (solid jam, jotn?) > sabotage cover

Set 2: present ghosts (short but sweet) > STADA? (One of the best jams I've heard from them) , closer > Velcro (yak attack sit in that nails it) , 23 forever (2x fakes end lol) , knobs?, faba2 , French

E: onion head
Here's a setlist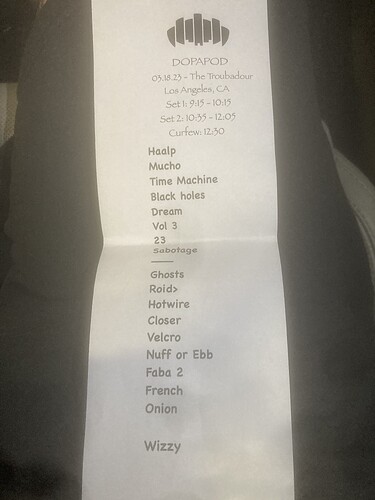 I made a Dopapod palindromic set:
Black Holes > FABA, STADA, Test of Time, Donkey Kong Theme → Vol. 3 #86, Flipped, 8 Years Ended → Aquatic Ambience (DK Underwater Theme), Time is Funny, PLSS, FABA2 > Black & White
Key

Song with the color black, the FABAs, another song that's all caps, song with "time", donkey Kong, song with numbers specifically 8, and "flipped" in the center before it reverses. All transitions are repeated too