Getting pumped for Renewal. Weather is gonna be perfect.
Damn, of course this sold out before I even knew it existed
Looks like they will be restocking more though: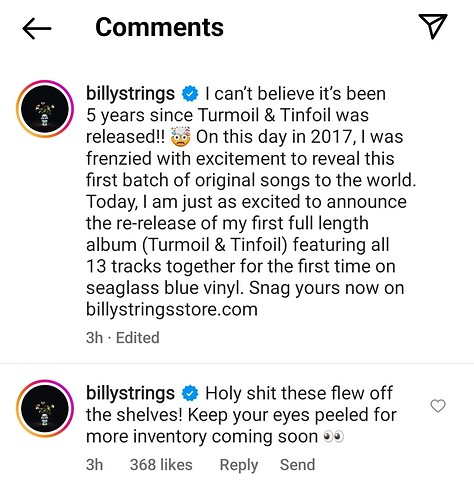 They usually have the standard vinyl at the merch booth at shows
Goddamn, what a sweet setup. I will make it out there one of these years.
Got in on the presale today. Thursday and Friday secured for 1st Bank. Gonna go for a Saturday for the GA sale on Thursday.
I should just move to Denver at this point.
Definitely wanted to get tix for this but I've been spending so much damn money lately I'm gonna have to wait to try and get some closer to show time. Hoping to make 1 or 2 nights, doubtful I will do the full run.
Was able to get a pair of floors for Thursday. $100 all in per ticket is pretty steep so we'll likely keep it to only the one night. Can't pass up a show 10-15 minutes from the house regardless of price
Most likely selling my NYE and 12/30 billy tickets to help with closing cost for the condo. 2 tickets each night. Sec B row 5 seats 11/12 for NYE. Pm me if interested or got any leads
I don't know anyone looking, but they're a slight upgrade to my 12/31's, so I'm happy to take them if no one else bites. Will give anyone else first dibs.
I'll let you know when I'm confirmed not going, gotta look over finances and stuff first. But I'll let you know drew. I'm bummed cause i wanted to meet you after us both being on the Bort for so long.
Yeah, I really hope you can swing it. We'll have a really good local crew, and would love to have you join us.