Yup. Album is Fauna and expected 1st qtr 2023 so the rumor mill tells me
Preview for the new single out this Friday has a trumpet. I am PUMPED
March 3rd release date. 9 track album.
Didn't feel like waiting until midnight and listened to the new single. Love it. Totally different vibe than vector/virus. The closest comparison in the haken-verse for me is henshalls solo album.
Fuck yeah. Where did you see the info about release date?
Reddit has a few screenshots.
Such a departure from the last few records. Love it. Really excited for the rest of it
Interesting. Not what I expected at all but I love it. Really excited that they are departing the virus/vector sound. Those records are decent but it's always exciting to me when one of my favorite artists evolve on to a newer sound. Definitely agree @Whinergetsnothing, getting lots of cocoon vibes
Really excited for the album, wish it wasn't so far away.
You must love The Future Bites
I didn't say that I always like the outcome, I get excited by the prospect of a new sound. I'm not as interested in a band's new album if their singles sound like something I've heard before. Novelty in new music is important to me.
In that post I did put "it's always exciting to me (and a little scary)" but removed the scary part. But I was thinking of TFB while writing that.
FWIW I don't hate TFB and I do go back and listen to it every now and then. The lyrics are awful but I like the music.
I like it. Same guy who did the tiktaalika art.
Reminds me of the Naked - Talking Heads album cover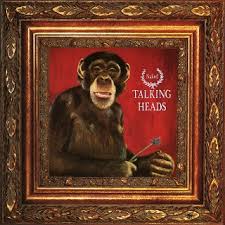 Waiting to see what venue in Charlotte but I should be in for that. So much better than having to drive to Raleigh or ATL for an opener set would have been this year.
Edit: Looks like it's the Fillmore Underground.
Where did you find the venues? The dates aren't on Haken's website yet.
Yeah the symphony X tour wasn't really worth it. I only went because I was 20 mins away
I figured that's where it would likely be and checked the venue's site.
Possibly in for minny
Edit holy shit just realized they're doing a show everyday for a month straight. Crazy
Not quite, looks like they have 4 days off: 5/8, 5/14, 5/18, 5/29
But yeah that's a grueling schedule