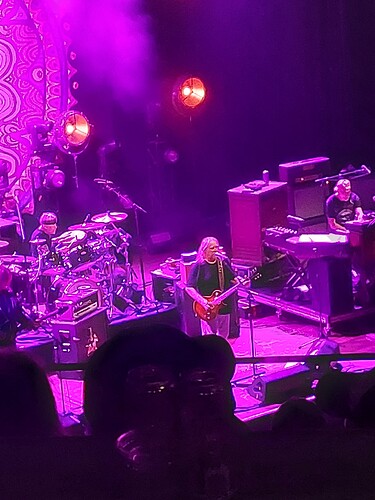 Saw ole Warren last night. He looked a little skinnier than I remembered.
A lot of it gets boring, but that man can play. Some of his riffs just hit so hard in a live setting. Mule is never something i will try to see, but when its 10 mins away it makes for a kick ass evening.
The only time I've seen Gov't Mule was after Umphreys at Red Rocks in 2008. I've had no interest in seeing them again. Panic on the other hand, that is a band I wish I had seen more of. I've only seen Panic five times I think…
Mile High Music Festival 2009 x 2
Austin 2011
Portland 2014
….
I guess that is four times. I honestly don't remember if I caught their set at Bonnaroo in 2007. Memory is getting a little hazy these days. Panic fucks though.
Cheese on the other hand, no idea if I want to see them again. Caught them at Bonnaroo in 2007 and then Hornings Hideout in 2013.
Honestly I'm just grateful I went to college in the Midwest cause I feel like a lot of jamband fandom is influenced by where you cut your teeth on the scene. For example, lots of my Atlanta and Nashville friends were into STS9 during our college years.
I tend to say I'm improv agnostic but at the end of the day I just want to see more Umphreys than anything else.
That set was fun as hell. The one and only time I've seen them, not sure why cause I had a blast.

Huge Mule fan here. Warren rules. I think I'm at around 20 shows or something now.
Every Warren Haynes fan was raised in Appalachia.
Not that there's anything wrong with that
I love me some Panic but I've never cared for Warren/Gov't Mule.

Yeah well you aint from Appalachia
I really want to go to some WSP shows soon. Been way too long.
Ya I've caught a ton of random Mule shows over the years. Was at RR iin 08, was my first time at RR, the night before was Ratdog opening for Allman Bros. then UM + GM the next night.
Saw mule on Halloween in KC one year, at wakarusa fest a couple times, and once at Summercamp the day Greg Allman died. That was a beautiful set.
Most recently I saw them open for Turnpike Troubadours at Sandstone in Bonner Springs, KS. All the country fans didn't care for my hippy ass grooving and smoking weed.
Mule is fun but the crowd sucks ass, just a bunch of old white men with their arms crossed not having any fun. Remember seeing them in college and my buddy and I were the youngest there by 20-30 years and everyone was yelling at us for smoking joints around them.
So it was like a modern day TTB show?
That show was a lot of fun but man I was twisted for all of it. Pretty much only remember walking up during Wappy, looking at all the olds get weirded out by Resolution, and then GM covering Sabbath(?). Blacked out on L, hard.