Vacation week & visiting my cousin in Charleston.
Grabbed a pair of tickets for this.
Pumped! Anybody else going?
Did you have to have an access code to get tickets?
I bought my tickets Monday morning, no access code needed.
2 of my buddies went to buy them on Thursday & got shut out because now there's an access code field and they don't know what it is.
I have tickets from way back when the first date was announced before the postponing. Still a little unsure about going, but it is an outdoors show so it might be reasonably safer.
I went last year and had a blast so it would be nice to get to experience it all again. Seemed like the two of them were having a blast.
I realize this is probably not entirely Ryan/Brendan's fault but here is a snapshot that I took from a video on the ever popular Facebook page.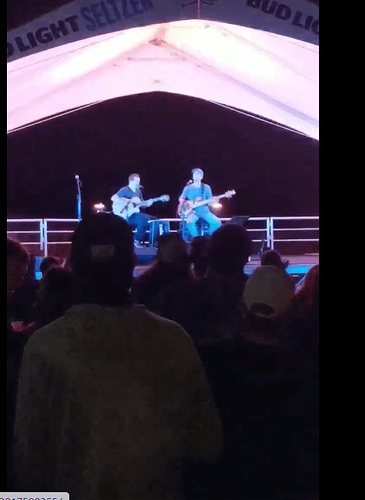 Not impressed.
So it was just nuts to butts? I still went to SC, the original weekend for this show and the set up they had then was COVID-legit. Picnic tables in the sand, roping for aisles, etc.
Dude, I was in Myrtle Beach for over a week after the UM drive-in shows. No one in SC gives a fuuuuck about COVID. Bars at full capacity, no one (including the employees) wearing masks. There was a show in Pawleys Island. It was completely normal, like there wasn't even a pandemic. The only difference was that places closed down earlier. Restaurants around 9-10pm and bars at 11pm.
Is this what Bayliss envisioned when he was "looking for a way to make it out alive?"
#Windjammerinquarantine
Yeah that looks pretty bad.
Setlist?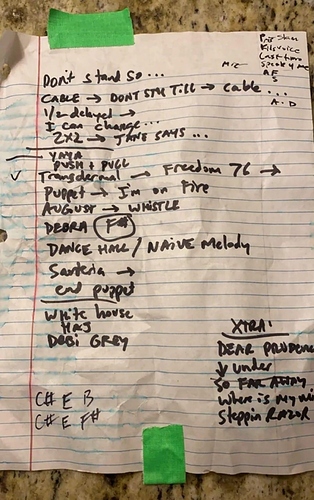 Naive Melody burns, always wanted to see UM play it but they won't because Cheese plays it too damn much according to Joel.
love me a naive melody, for sure! but it seems to me to be better suited for these solo/duo shows then full on UM.
i likely wouldn't kick it out of bed for eating crackers, but im having a hard time creating a full-blown band version in my head that wouldn't just be an "ok, they did that" versus a "hell yeah, they did that!"
also, SC's pandemic rules or not, i'm disappointed with the guys for playing a show at a venue that doesn't give a fuck about distance. i get that they gotta eat, but they could have flexed a little bit about demanding how the crowd was disspearsed… no? i do put some blame on BB/pony even though the bulk of it goes to the venue/state
I had tickets but ended up passing on going because people in Chalreston have been pretty fast and loose with distancing. Bummed to miss it because the show was a blast last year, but thats how it goes. Happy to still give the venue/band the ticket money.
Yikes at the pictures of this, bad look
They sold 50% capacity for the venue. Heard it was nice NOT being nuts to butts in there…or out there…I mean, it was outside.
The wording just kind of blew my mind for a second, couldn't tell if you were being sarcastic somehow, lol. Ignore me.